Support for WNBA star Brittney Griner, detained in Russia since mid-February on drug charges, was evident among her USA Basketball teammates at a Friday practice, as the players were also aware of how precarious her situation is, according to the Associated Press.
"We're not talking BG the basketball player, we're talking about BG the wife, the daughter, the sister the human being," 2020 WNBA MVP A'ja Wilson said Friday at USA Basketball training camp, according to the AP. "That's what I'm caring about. I get the silence and you don't want to talk about it. I can't even imagine to put myself in that situation. It's tough."
Griner's case has garnered international attention since it was first reported in early March that she had spent weeks in Russian custody for allegedly carrying vape cartridges with "hashish oil," a cannabis product, in her luggage when she was detained at a Moscow airport.
However, many within the WNBA community and close to Griner were hesitant to speak publicly about her case out of fear that Russian authorities and President Vladimir Putin could see the attention as leverage, turning Griner into a political pawn, ESPN's T.J. Quinn reported last month. The fact that the situation is playing out while Russia is invading Ukraine has made some doubt that protests or campaigns for Griner's release would have a significant impact amid the conflict, according to Quinn.
Late last month, U.S. officials were finally able to visit Griner after over a month of her detention and said that she was in "good condition."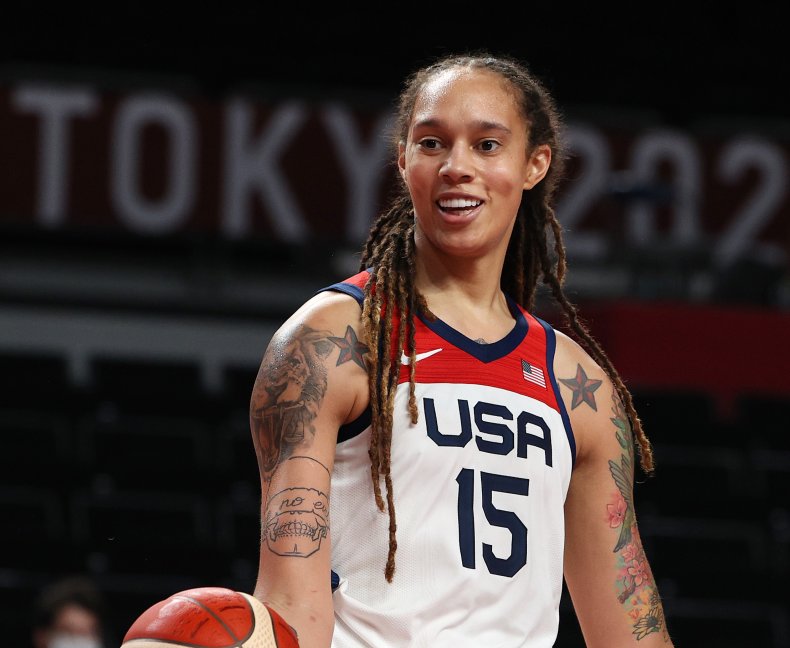 "I can guarantee you this, this group here and women of the WNBA, we're not going to forget about Brittney Griner," USA Basketball coach Cheryl Reeve told the AP. "Brittney's not here, we're going to do the things she would have done. She's very philanthropic. Try to honor her in that way until the highest level of government can work this out."
Few people involved with the WNBA or USA Basketball have publicly commented on Griner's detention. The WNBA itself only released short statements when Griner's detention was first reported and again when it was announced that U.S. officials met with Griner.
"In close collaboration with U.S. government agencies, elected officials, individuals and organizations with expertise in these matters, and Brittney Griner's representatives and family, we continue to work diligently to get her safely home to the United States," the WNBA said in a statement last month. "This continues to be a complex situation that is extremely difficult for Brittney, her family, and all who are hoping for a swift resolution. Our number one priority remains her safe return."
Another USA Basketball teammate, 2018 WNBA MVP Breanna Stewart, told the AP that she has become involved with the Phoenix Rescue Mission, a charity Griner has been involved with during her time with the WNBA's Phoenix Mercury.
Russian authorities said last month that Griner is set to be detained until at least May 19 to allow the investigation into the drug charges she is facing to continue.
Update 04/01/22, 5:45 p.m. ET: This story was updated with additional information and background.
Update 04/01/22, 5:05 p.m. ET: This story was updated with additional information.