A Kentucky swimmer who competed against Lia Thomas, a transgender swimmer from the University of Pennsylvania, during this year's NCAA swimming championships says that the "majority" of female athletes are concerned about the "trajectory" of women's sports.
"The majority of us female athletes—or females in general, really—are not okay with this and they're not okay with the trajectory of this and how this is going and how it could end up in a few years," Riley Gaines, a senior at the University of Kentucky, told Republican Senator Marsha Blackburn of Tennessee on a Friday episode of her podcast Unmuted with Marsha.
Gaines, who tied for fifth place with Thomas during the championship's 200-yard freestyle, has been outspoken about her swim rival after being denied the fifth-place trophy, which officials gave to Thomas to hold during the podium presentation last month.
Although Thomas placed fifth in the race, the UPenn swimmer also came first in the 500-yard freestyle during the championships and made history as the first known transgender athlete to win a Division One national championship in any sport.
"The NCAA official came up to me, and he just said, 'Hey, that was a great swim. We only have one fifth-place trophy,' which I understood, I get how that works—they only account, you know, for one fifth-place winner. But he said, 'We're gonna have to give the trophy to Lia. Yours will be coming in the mail. Great job,'" Gaines recalled.
She said the unnamed official wouldn't give her a specific reason as to why Thomas would get to hold the trophy for fifth, while she held the one for sixth, given that they tied.
"At this point, I was pretty frustrated and I kind of looked at them and said this is the women's 200-yard freestyle and Lia won a national title last night and I've worked every day for the past four years for this—which not saying that Lia or the other swimmer there hadn't—because it's such a big deal to get to that point," Gaines said.
"[The NCAA] completely put me and my hard work and everything I had done on the backburner just to kind of save face a little bit in terms of not wanting to receive that backlash," she told the Kentucky Kernel this week, clarifying that it was not Thomas or her transition that she was taking issue with but the NCAA rules.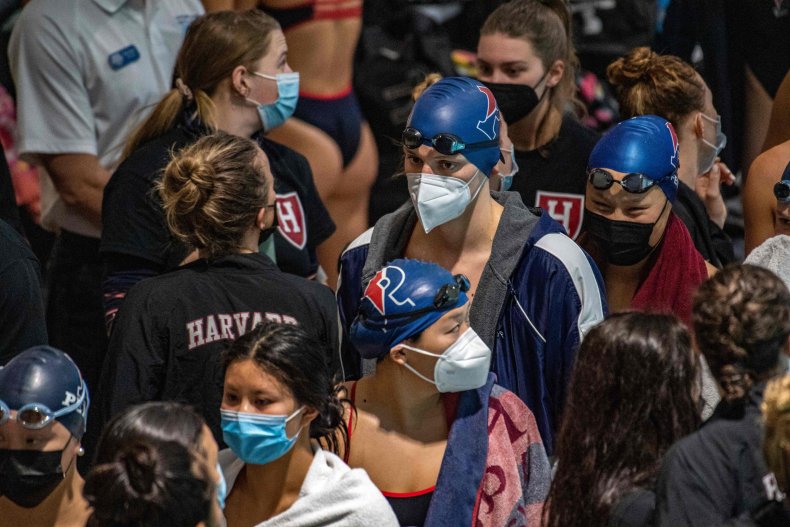 Thomas' eligibility to compete in the NCAA women's swimming championships has received mixed reviews among her peers. While some have welcomed races against Thomas, others have been frustrated by her participation in the competition.
Republican officials have rallied against Thomas' first-place win, with some like Florida Governor Ron DeSantis recognizing runner-up Emma Weyant as the "rightful winner" of the 500-yard race.
But the transgender athlete has also received tremendous support from the swim community.
In February, before the NCAA adopted its own policy for transgender eligibility, more than 300 current and former NCAA, Team USA and international swimmers and divers signed an open letter to the NCAA in support of Thomas and called on the organization to allow her to compete.
At the time, the NCAA was following a sport-by-sport model based on the policies of national governing bodies to determine eligibility. Under the USA Swimming policy, transgender women swimmers to demonstrate they have maintained a testosterone level below 5 nanomoles per liter continuously for at least 36 months before competition.
Thomas began her testosterone-suppression therapy in May 2019—33 months before the championships.
Newsweek reached out to the NCAA for comment but did not hear back before publication.