Tiger Woods has confidently strode the fairway onto the 18th green thousands of times. Hundreds of those have been before raucous crowds at major tournaments cheering wildly for the iconic golfer.
In Sunday's final round of the 2022 Masters, he received the same thunderous applause on the 18th, except this time it was different. He wasn't in contention for a title. His stride not as confident. His face showed grimace. He looked mentally and physically exhausted. He slowly walked off the course in 47th place after a four-round total of 13-over par.
It might be one of the best moments of his life.
Woods broke multiple bones in his right leg almost 14 months ago during a car crash in California. Many feared that Woods didn't survive the crash, which authorities determined was caused by driving at a high rate of speed. A seat belt saved his life, they said.
Woods fractured his fibula as well as both the upper and lower portions of his tibia. His ankle bones were damaged and the soft tissue and muscle around the bones had trauma. Reconstructive surgery involved screws, pins and rods to stabilize his leg. Combined with a nagging back injury through the years, it appeared his professional golfing career was over.
At least he was alive.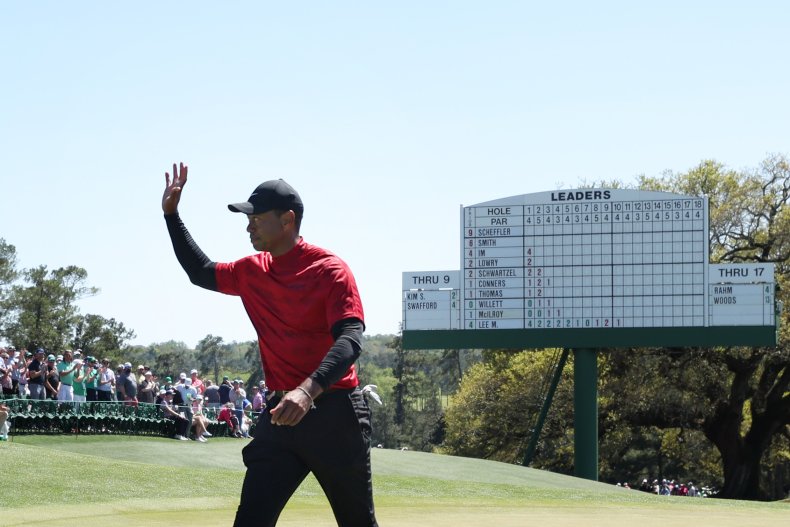 He returned to Augusta this week to play in the Masters, a tournament he's won five previous times, including a memorable comeback for the 2019 title.
This was his first tournament in 17 months, which was the end of the 2020 season. Woods this week said he wouldn't play unless he felt like he could win another green jacket. He teed off Thursday morning against the best golfers in the world, on one of the most demanding golf courses in the world.
Woods didn't use a golf cart. He legged out the 7,475-yard course (a mile long) for four straight days on a bum leg. He winced each time he bent over to place the ball on the tee or to retrieve it from the hole.
He finished the first round at 1-under par and in 19th place. He shot 2-over par on Friday to make the weekend cut. His journey continued with a 6-over par 78 on a cold and blustery Saturday and then another plus-6 on Sunday. He needed four putts on the final hole Saturday to double bogey on 18. He was still upbeat after the third round. By the 18th hole on Sunday, he looked spent.
However, his walk on the 18th fairway, and up to the green, set off a rousing standing ovation from a packed crowd that once probably thought they'd never see Woods compete again.
Woods probably needed this Masters tournament more than the Masters needed him. Fans cheered him each of the four days—at every hole he played.
The cheering and support is likely a therapy that can't be found in a hospital or clinic. The real-life exercise for a 46-year old body might be better than any rehab facility.
Former President Donald Trump even sent his congratulations to Woods following Sunday's round.
"Great job by Tiger Woods in the Masters, a true champion!" Trump wrote.
Woods hasn't declared if he'll play many tournaments, or even the next major, which is the PGA Championship next month in Tulsa, Oklahoma. He has said he will play The Open Championship this July at St. Andrews in Scotland.
For now, Woods is just thankful to be back in a tournament.
"I keep saying it, but I am," Woods said. "I really am. I truly am. Just to get to this point."
"I don't think words can really describe that given where I was a little over a year ago and what my prospects were at that time to end up here and be able to play in all four rounds," he said Sunday. "Even a month ago, I didn't know if I could pull this off. I think it was a positive, and I've got some work to do and looking forward to it."
He's finally getting back to normal life. Something he considers so precious.