With Tiger Woods likely making his return to professional golf at this week's Masters Tournament, oddsmakers currently have him positioned as an underdog to potentially win his sixth title at Augusta National.
Various oddsmaker and sports betting sites currently give Woods longshot odds at winning the 2022 Masters in his return after being seriously injured in a car accident over a year ago. Draft Kings currently rates Woods' chances at +4,500, 18th overall. These odds mean that a $100 bet on Woods to win would return $4,500.
For comparison, the site gives the best odds to Jon Rahm, the Spanish golfer who won the 2021 U.S. Open and is currently ranked as the second-best player in the world, at +850.
Woods is ranked in a similar range among other oddsmakers. Vegas Insider has Woods at +5,000, with Sporting News and SportsLine also giving him the same odds. All three outlets, like Draft Kings, favor Rahm to win the tournament.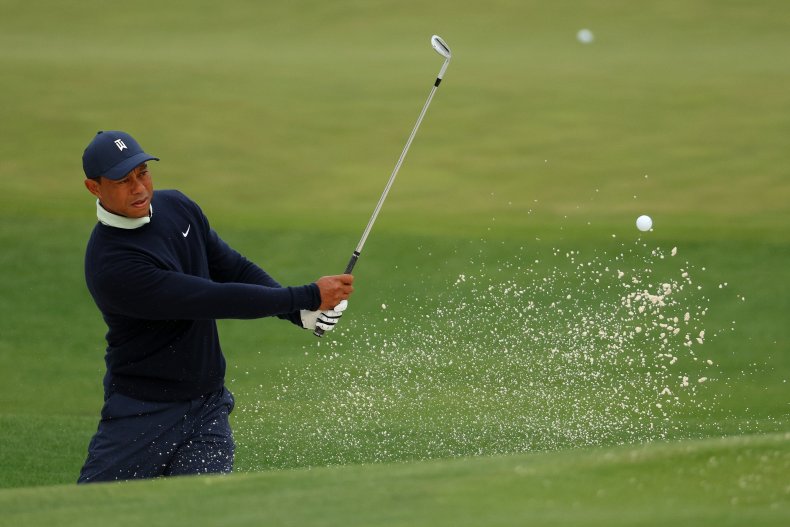 Rumors began to swirl about Woods's potential Masters return several weeks ago when he was listed on the tournament website's official list of participants. Some pointed out that the list includes all potential participants until a listed player reaches out to the organizers to confirm that they will not be taking part. Rumors persisted, however, as the tournament drew closer and Woods's name remained on the list.
On Tuesday, Woods confirmed that he feels like he is going to play in the 2022 Masters Tournament, and furthermore, he believed that he can win after being away from competitive golf since November 2020. He also added that he intends to make his final decision on Wednesday, the day before the event begins.
"As of right now, I feel like I am going to play," Woods said, according to CBS News. "As of right now. I'm going to play nine more holes tomorrow."
Woods suffered major injuries, including compound fractures in both legs, in February 2021 after getting into a single-vehicle crash in California. Since then, though he began physical rehabilitation and seemed in good spirits, Woods has not released many details about the timeline for his return to professional golf.
Woods did, however, compete in the pro-am PNC Championship golf tournament in December. During the event, which saw professional golfers competing alongside members of their families, he played with his 12-year-old son, Charlie, and ultimately placed second behind John Daly and his son. During the event, he continued to downplay his potential comeback, raising doubts about his legs and his endurance.
"I'm just happy and thankful that I'm able to do this," Woods said. "I still have my old leg which was questionable for a while and it's functioning. I'm just really tired, I'm not used to this. I think this is my fourth or fifth round of golf this year, I'm a little worn out and it was nice to have a cart."
Woods last major win came in the 2019 Masters, the fifth Masters title overall in his career. In 2020, he failed to place in the top 10 at Augusta, tying for 38th place with five others.
Update 4/5/22 1:00 PM ET: This story has been updated with additional information.