Dugouts from both teams were cleared during the New York Mets and Washington Nationals game after Mets shortstop Francisco Lindor was hit in the face Friday night.
In a widely-shared clip on social media, Nationals pitcher Steve Cishek threw a fastball clocking in at 88 miles per hour, according to ESPN. The ball struck Lindor right in the face, throwing him to the ground and causing his helmet to fly off as he tumbled. Game commentators groaned at the impact.
In the heat of the moment, Mets manager Buck Showalter stormed out of the dugout livid, yelling. Nearly the entire team followed Showalter onto the field.
Nationals players also took to the field in an intense exchange. The two teams can be seen yelling and pushing each other on the field.
Lindor pointed near his mouth as Showalter and a Mets trainer checked on him. He eventually got back on his feet and received attention from medical trainers. X-rays on Lindor's jaw were negative, and he passed concussion protocol, according to Major League Baseball (MLB).
The game was delayed for more than 10 minutes while umpires deliberated, eventually deciding to eject Cishek from the game. The pitcher was making his Nationals debut and had just entered in relief of starter Josiah Gray after the Mets had taken a 4-3 lead, according to the Associated Press.
MLB cites Lindor's injury as the second similar incident in the season's first two days.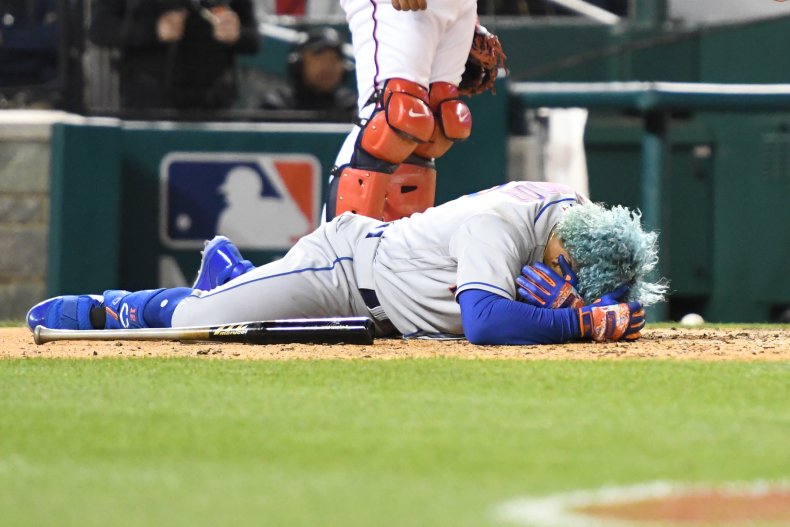 The night before, Mets player Pete Alonso was hit in the shoulder by a ball at 95 miles per hour and it ricocheted to his face. Alonso also left the game but was mostly unharmed, MLB says.
"I won't make light of it—I'm not happy about it," Showalter said after the game. "Just like [Mets catcher James] McCann, got the slider that bounced off his foot, but don't like to see that." McCann was hit by two pitches on opening day, a fastball and another breaking ball that hit him on the foot.
Alonso said he was just happy the hit wasn't worse, being grateful he still had all his teeth.
"It's an emotional game played by people that care," he added when asked if the dugout was angry. "You ever gotten hit by a pitch in the mouth? Not particularly pleasant, so certainly, there's some emotion there."
Newsweek reached out to the Mets for comment.