Russian go-karting champion Artem Severiukhin has denied making a Nazi salute to celebrate his most recent victory Sunday.
During a podium ceremony at the European Junior Karting Championship in Portugal, the 15-year-old racer pumped his chest before extending his right hand—a gesture many took to be a Nazi salute. The incident has sparked outrage within the go-karting community.
However, the teenager said the gesture was being misunderstood and that he never meant to perform a Nazi salute. In a video first posted to Telegram on Monday, Severiukhin apologized and said he has never supported Nazis, acknowledging that they are responsible for "the worst crimes in humanity."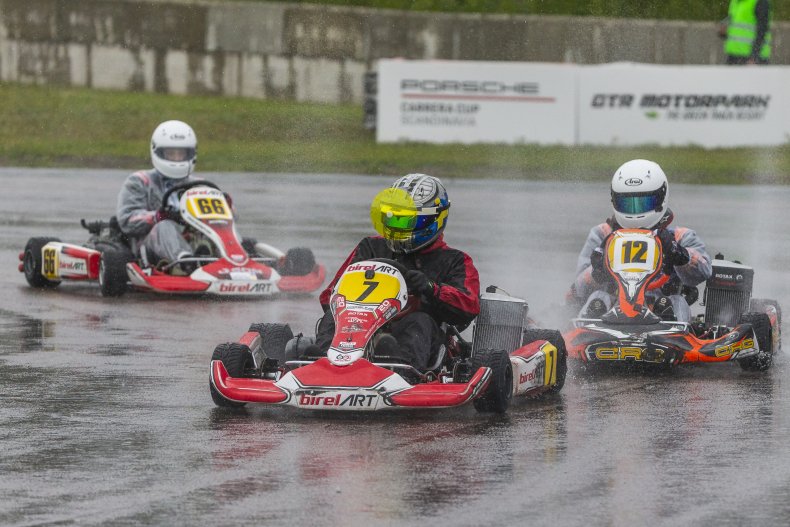 "I am ready to be punished," he said in the video. "But please believe that there was no intention in my actions. There was no support for Nazis."
In separate remarks reported by Motorsport.com, he clarified that he was only trying to address his supporters and family, who are from Russia. He is currently racing with an Italian license due to the Fédération Internationale de l'Automobile's (FIA) ban on Russian competitors over its invasion of Ukraine.
"Someone saw a bad gesture in my actions, but it's not. I just thanked them [my family]. I am Russian. I am from Russia and I stand by my country," he said.
FIA confirmed in a statement on Twitter Monday that they have launched an "immediate investigation into the unacceptable conduct" of Severiukhin, writing that more steps in the investigation will be announced "shortly."
Meanwhile, his karting team Ward Racing also announced in a statement on Instagram on Monday that they will proceed with terminating the athlete's contact, as it sees "no continued cooperation."
"Ward Racing accordingly condemns the personal actions of pilot Artem Severiukhin during the award ceremony on April 10, 2022 in the strongest possible terms, as it considers them a manifestation of unsportsmanlike behavior, an unacceptable violation of the ethical and moral sports codex," the statement reads.
The Russian Automobile Federation (RAF) is "clarifying the circumstances of the incident," the organization said in statement reported by Sky News. "We also report that we consider unacceptable any, even an accidental manifestation of fascism and Nazism in Russian motorsport and among Russian athletes," the federation said.
On social media, go-karting fans debated whether or not he should be able to continue racing.
"TBH I wasn't at all convinced that he even understood the words he's been given let alone the impact of his behaviour. All he understands right now is loss – loss of his deal. Now think about the loss in Ukraine. Actions have consequences whether you are 5, 15 or 50," wrote Twitter account @ditsy_woman.
"Maybe I'm just a sucker but I feel bad for the lad, honestly looked like he saw someone do the chest bump point thing people do than anything genuinely nazi-ish – I hope the lad ends up okay, its a lot to be dogpiled on at only 15," wrote Twitter user @ElectabuzzKid.