The crack of gunfire interrupted a peaceful evening for retirees living near Kings Point Golf Course on Sunday when a 74-year-old man shot his 64-year-old neighbor in the ankle and beat him with a club for walking his dog on the golf course.
King's Point is a retirement community for residents aged 55 and above in Delray Beach, Florida. A real estate listing for the community boasts 7,200 condominium units and three clubhouses with a wide range of amenities, including a fitness center, a performance theater, two outdoor pools, two tennis courts, 28 shuffleboard courts and the 18-hole golf course that became a bloody scene on Sunday.
The golfer, Robert Levine, was enraged by dog-walker Herbert Merritt, according to an arrest report from the Palm Beach County Sheriff's Office obtained by WPBF-TV. Merritt told deputies that Levine rode up to him in a golf cart and verbally berated him before taking out a semi-automatic handgun.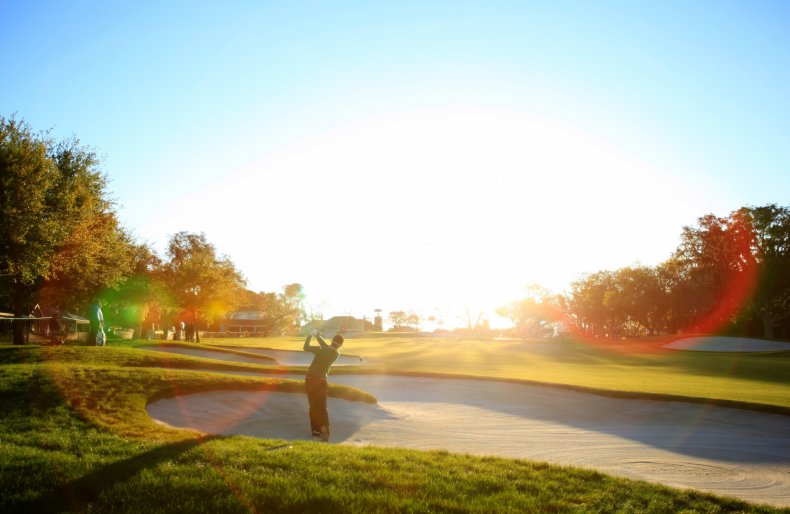 As Merritt ran away and tried to take cover, Levine shot about five rounds at his neighbor. He chased down the dog-walker and kicked him in the head, then retrieved a club from his golf cart and beat Merritt while holding the gun in his left hand. Stunned retirees who saw the attack unfold from their balconies described the chain of events to sheriff's deputies, WPBF-TV reported.
Responding officers found Merritt lying on the ground with a gunshot wound to his left ankle. They apprehended Levine, who still had the handgun in his pocket. They also found shell casings on the ground and two golf clubs that appeared to be blood-stained.
Merritt told the deputies that he had never seen the golfer before and "felt that Levine was trying to kill him," according to the local station.
The dog-walker was taken to a hospital with non-life-threatening injuries. Levine was also hospitalized for an unrelated medical episode and charged with attempted first-degree murder. In Florida, the crime is punishable with fines up to $10,000 and a sentence of up to life in prison.
The state saw 2,872 gun deaths in 2019, an average of eight people every day, according to the Educational Fund to Stop Gun Violence. With 1,013 firearm homicides—35 percent of the total gun deaths—Florida had the 19th-highest gun homicide rate in the United States that year. According to researchers at California State University, data has shown that the elderly are significantly less likely to be arrested than younger people, but that they are more likely to be arrested for alcohol and drug-related matters than they are for most other types of crimes.
Newsweek reached out to the Palm Beach County Sheriff's Office for comment.