Hope Solo has asked the National Soccer Hall of Fame to delay her induction while the former superstar goalkeeper voluntarily enters an in-patient alcohol treatment program.
Solo, whose accolades include a World Cup championship, two Olympic gold medals and two FIFA World Cup Golden Glove awards, said she was seeking the postponement in a statement posted to Twitter Friday. Her announcement follows Solo's recent arrest in North Carolina in which she was accused of driving while intoxicated with her children in the car.
She was elected to the National Soccer Hall of Fame in January with an induction ceremony scheduled for May 21 in Frisco, Texas. Solo, 40, was arrested in Winston-Salem last month after she was allegedly found passed out behind the wheel in a Walmart parking lot with the car still running and her children in the backseat, reported WBTW-TV.
"At this time, my energies and focus are totally directed to my health, healing and taking care of my family," Solo said on Twitter Friday. "I want to thank the Hall of Fame for their support and for understanding my decision."
Djorn Buchholz, executive director of the National Soccer Hall of Fame, reacted sympathetically, writing in a tweet, "We at the @soccerhof fully support your decision @hopesolo and look forward to seeing you in 2023."
Following the incident in North Carolina, she was charged with impaired driving, resisting arrest and misdemeanor child abuse.
Solo's attorney Rich Nichols posted a statement saying she was released after the incident and is home with her family. He added "the story is more sympathetic than the initial charges suggest, and that she looks forward to her opportunity to defend these charges."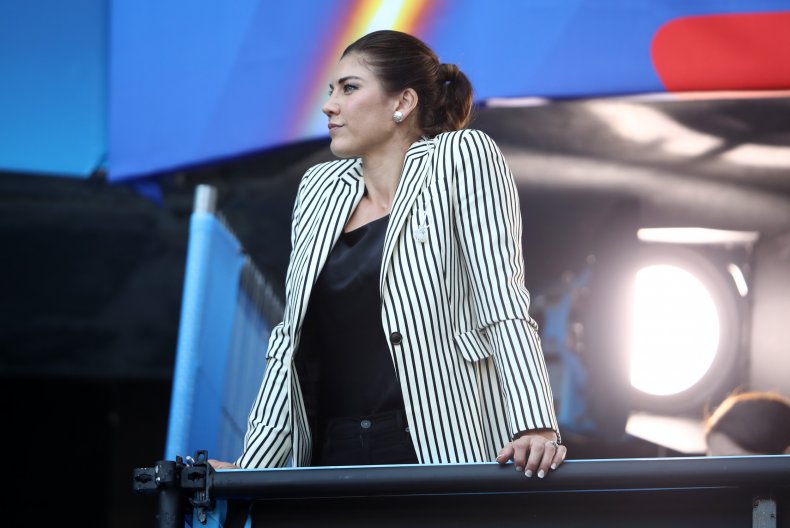 Solo has had earlier brushes with the law. In 2014, while playing for the Seattle Reign, she was arrested in Kirkland, Washington, for allegedly striking her sister and nephew, according to The Seattle Times. Police told the paper they could see injuries on Solo's 17-year-old nephew and Solo's sister. Solo was described by officers as "intoxicated and upset," according to the paper.
But the charges were dropped four years later, with the prosecution citing witnesses who didn't want to testify and saying the case was "unlikely to recur," according to KING-TV.
Solo was suspended from the U.S. women's national team for 30 days in 2015, reports ESPN. The reason for the suspension wasn't specified but it came after her husband, Seattle Seahawks tight end Jerramy Stevens, was arrested, accused of driving under the influence. While Solo wasn't arrested, she reportedly did not disclose the incident to the team.
Solo's soccer career ended in 2016. She then unsuccessfully pursued becoming U.S. Soccer president and worked as a BBC analyst during the 2019 Women's World Cup, according to the National Soccer Hall of Fame.
Newsweek has reached out to Solo's attorney for comment.