Former tennis star Boris Becker was sentenced to 2 1/2 years in jail on Friday after he was found guilty of four charges related to his 2017 bankruptcy.
According to a press release from the United Kingdom's (U.K.) Insolvency Service, 54-year-old Becker, a former Wimbledon champion, received the prison sentence at the Southwark Crown Court by Judge Deborah Taylor.
The sentencing on Friday comes several weeks after a jury found Becker guilty of four bankruptcy related charges under the U.K.'s Insolvency Act. Becker was found guilty of concealing debt, removal of property and two counts of failing to disclose assets.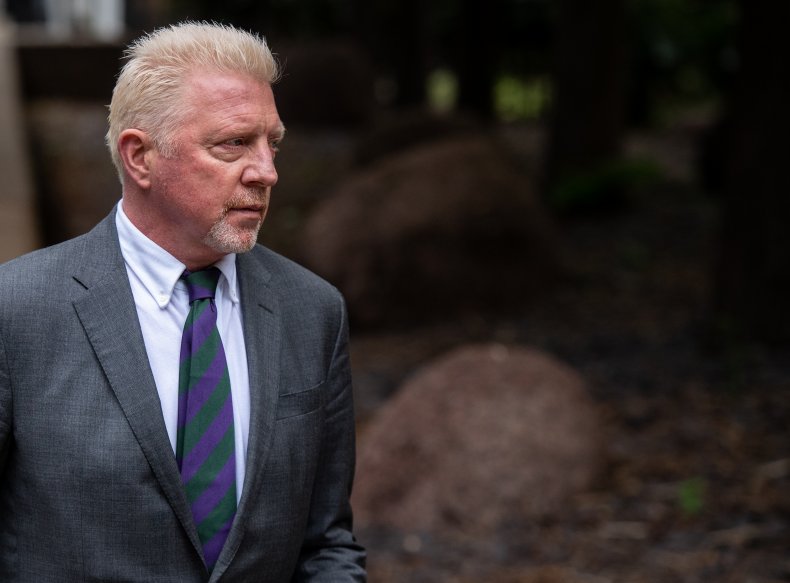 "During proceedings, the court heard that Boris Becker was made bankrupt on 21 June 2017 in the High Court following a petition from Arbuthnot Latham & Co, a private bank," the U.K.'s Insolvency Service said in the press release. "Boris Becker was legally obliged to disclose all of his assets so that his trustee could distribute available funds to his creditors. The former tennis player, however, failed to disclose, concealed and removed significant assets from the Official Receiver and his Trustee in Bankruptcy."
According to the BBC, in 2017, Becker declared bankruptcy after he was unable to pay a loan worth more than 3 million pounds ($3.77 million) for his estate in Spain. The jury found Becker guilty of transferring a large sum of money from his business account to several other accounts after he filed for bankruptcy.
Additionally, Becker was found guilty of failing to disclose property that he owned in Germany. The BBC reported that Becker was also convicted of hiding more than 825,000 pounds ($872,256) in debt after filing for bankruptcy, as well as shares he owned in tech firm Breaking Data Corp.
Prior to his sentencing, Becker testified that his "expensive lifestyle commitments" ultimately led to his bankruptcy, despite earning approximately $50 million over the course of his tennis career, the BBC reported.
During the sentencing hearing on Friday, Taylor said, "I take into account what has been described as your fall from grace. You have lost your career and reputation and all of your property as a result of your bankruptcy," CNN reported.
"You have not shown remorse, acceptance of your guilt, and have sought to distance yourself from your offending and your bankruptcy," Taylor added.
In the press release, Dean Beale, chief executive of the U.K.'s Insolvency Service, said the sentencing "confirms that Boris Becker failed to comply with his legal obligation to declare significant assets in his bankruptcy."
Beale continued, "This conviction serves as a clear warning to those who think they can hide their assets and get away with it. You will be found out and prosecuted."
According to the BBC, Becker's attorney, Jonathan Laidlaw, told the court Friday that the ongoing hearings over Becker's bankruptcy "have destroyed his career entirely and ruined any further prospect of earning an income."
Newsweek reached out to Becker's attorney for comment.
Over the course of his storied career, Becker won the Wimbledon championship three times, with his first victory there at the age of 17.