Rich Strike on Saturday won the 148th Kentucky Derby at Churchill Downs in Louisville, Kentucky. When the race began, Rich Strike had 80-to-1 odds to win the Derby, which is the first leg of horse racing's Triple Crown.
Rich Strike, who wasn't even part of the field on Friday, was a late addition to the race after Ethereal Road scratched. Rich Horse began from the last gate. Down the final stretch after race and it appeared favorite Epicenter (4-1) would win, Rich Strike walked down Epicenter to nose out the win. When Saturday began, Rich Strike had 99-to-1 odds to win the race. That line dropped throughout the day as more money was bet on horses.
"Rich Strike has stunned the racing world," NBC's Mike Tirico said after the race.
Rich Strike was on a three-race losing streak before Saturday's victory, according to the Kentucky Derby website. Rich Strike, who was born in Kentucky, was ridden by jockey Sonny Leon. The horse is trained by Eric Reed.
Rich Strike registered for the 2022 Kentucky Derby just a few seconds before the deadline on Friday. His late addition, incredible odds and improbable comeback in the race help it make one of the greatest sports stories in history.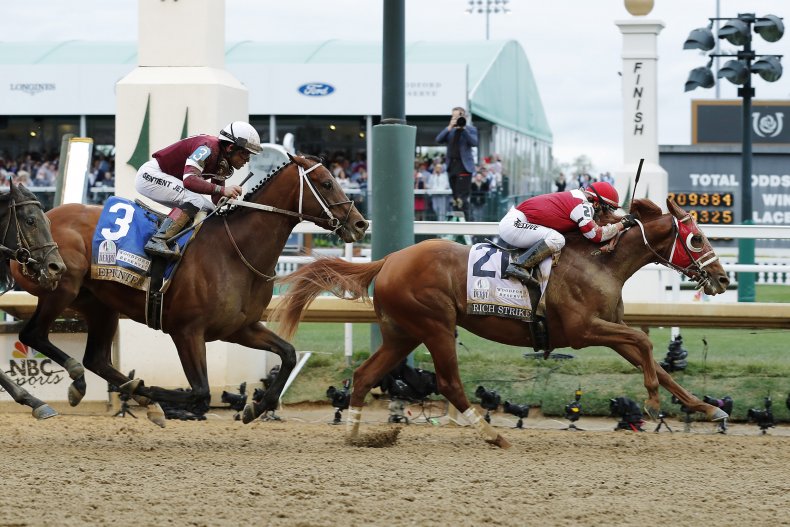 This was the first Kentucky Derby since last year's doping fiasco. Medina Spirit won the Kentucky Derby on May 1 at Churchill Downs. One week later, legendary trainer Bon Baffert learned that a drug-testing sample from Medina Spirit tested positive for elevated levels of an anti-inflammatory steroid called betamethasone.
Baffert denied any doping of the race horse that almost led from wire-to-wire in the Derby.
"Yesterday, I got the biggest gut punch in racing for something that I didn't do," Baffert said last year on May 9 upon learning of the doping allegation. "[It's an] injustice to the horse. I don't feel embarrassed, I feel like I was wronged. But I'm going to fight it."
Baffert later claimed they used an ointment on the horse, and the ointment had the corticosteroid in it. Medina Spirit was stripped of the Derby title, which was later awarded to Mandaloun, who crossed the finish line second behind Medina Spirit. Baffert has been banned from Churchill Downs and reportedly watched the Kentucky Derby at his Ariona home this year.
Here are the next two legs of the Triple Crown:
May 21, 2021 — Preakness Stakes (Pimlico Race Course, Baltimore, Maryland)
June 11, 2021 — Belmont Stakes (Belmont Park, Elmont, New York)
The last Triple Crown winner was Justify in 2018, and the previous Crown winner was American Pharoah in 2015, which ended a 37-year drought with no horse that swept the three races (Affirmed, 1978).