A daring fan tried to jump into the octagon at UFC 274, but her attempt was quickly thwarted by security as shown in a viral TikTok.
Shriak Sharma shared the video, which has more than 670,000 views on his account @imlavishbishhh. The woman hopped out of her seat and rushed to the octagon before she was shoved back down to the ground.
According to Sports Destination Management, security for sporting events addresses all possible safety risks to guests. This can extend to weather, natural disasters and people looking to harm attendees.
"Event operators should consider the amount of people, level of competition, history of the event, as well as the layout of the venue when determining the need for police and security, where they should be located, and the number of officers needed," the piece stated.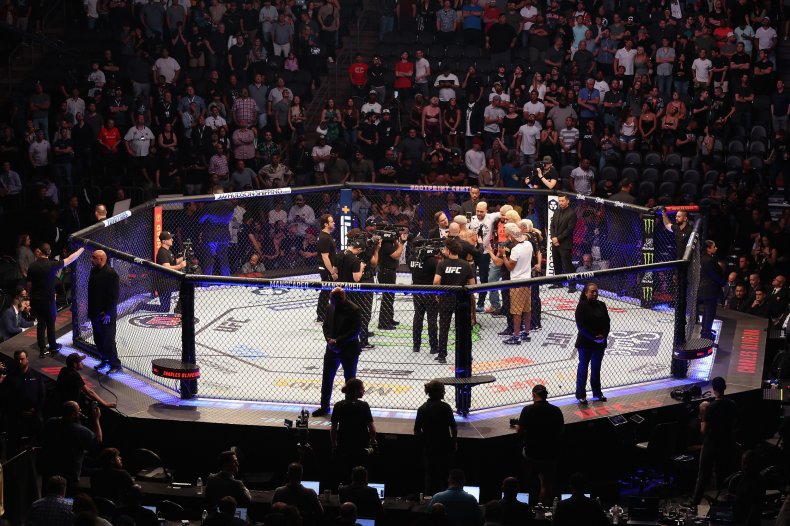 The organization also noted that event coordinators may assess an event before it takes place to make a decision on whether police officers are needed to discourage "negative activity."
In Sharma's video, the woman slowly lowered herself from her seat to the floor before she took off sprinting toward the octagon.
She climbed up to the outside of the octagon as some members of the crowd cheered her on before she was shoved off and onto the floor.
For a brief moment, viewers saw the woman being led away by security.
TikTok viewers did not hesitate to share their thoughts on the clip in the comments section.
"She definitely got hurt from that fall," a viewer wrote.
Commented another, "That camera dude def saw her getting ready to jump over and said 'ain't none of my business.'"
One viewer wondered what the woman's plan was if she successfully made it into the octagon, while another claimed that a UFC event is the "worst" place to attempt this stunt.
"She got dropped damn," a TikTok viewer commented.
Sharma noted in the comments section that he did not know the woman.
Newsweek reached out to Sharma and UFC for comment.
Other moments at sporting events have gone viral, and while some left viewers laughing, others were more heartwarming.
A sweet video of a young boy's reaction to starting the wave while at a football game went viral on TikTok.
One viral clip showed a man catching a foul ball while feeding a baby.
Another video surprised viewers when a kiss cam at a hockey game caught a proposal between a happy couple following another couple's fake proposal.