The status of Russian President Vladimir Putin's health is again under speculation after he missed an ice hockey game that he typically plays in.
Rumors surrounding Putin's health have grown since the start of Russia's invasion of Ukraine in February in part due to videos that have emerged showing him seemingly appearing shaky or sick. Several media outlets have recently suggested he may have Parkinson's disease, though such rumors are not confirmed.
More questions arose after Putin did not appear at the Gala game at the Night Hockey League National Festival in Sochi on Tuesday night, even though he was "expected" to play. The president had previously taken part in the ice hockey league that was established in 2011.
In early May, Dmitry Peskov, the Kremlin press secretary, announced the Russian president would not be attending the game. Instead, Putin gave a video address to the participants and guests at the festival, reportedly from the Black Sea resort where the match was taking place.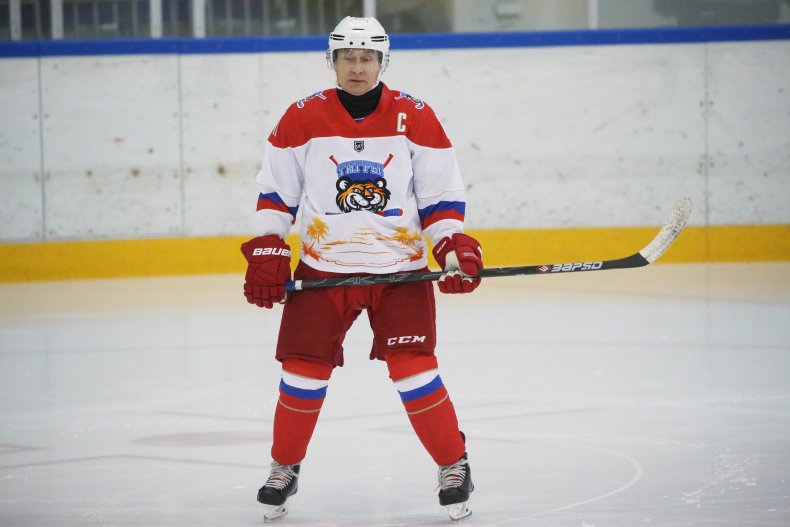 "Russia sincerely loves this wonderful sport," Putin said. "It is only natural that the Night Hockey League has won broad recognition throughout the country and has brought thousands of ice hockey players together from most of the regions in our country."
The New York Post reported that Putin appeared to have dark blotches on his face in the video address to attendees at the match, adding to the concerns for the Russian president's health.
Still, he seemed to be in good spirits in the video: "I wish you good luck in your ice battles and all the best. And as they say: may the best win!"
According to Russian news source East2West, this year was the second time since 2012 that Putin has missed the game—the first being in 2013 when he watched the match from the stands.
The Kremlin has continuously denied Putin's failing health rumors, but instances of Putin appearing frail or weak continue to fuel speculation. Most recently, the Russian president was seen wearing a blanket at the Victory Day parade on Monday and gripping the podium as he gave an address, an action that has sparked previous rumors in April.
A video of Putin meeting with Defense Minister Sergei Shoigu last month appeared to show him gripping the table and slouching down into his chair. Many on social media pointed out that Putin looked far from healthy.
"Is this just me or Putin really looks less healthy and sound with each and every day of the war?" Illia Ponomarenko, a reporter for the website The Kyiv Independent, tweeted. "I can see a drastic difference between now and late February."
Others have suspected that possible security concerns could have been the reason for Putin's absence from the game.
Newsweek reached out to the Russian Foreign Ministry for comment.