The news of 73-year-old Ric Flair returning to the ring for one last match has drawn mixed reactions on social media as some commenters have expressed their concerns about the professional wrestler's age and health.
"Ric Flair is one of the all-time greats, but this seems incredibly irresponsible on the part of the promoter. Hopefully nothing bad happens," WWE analyst Ryan Satin wrote on Twitter on Monday.
The legendary wrestler is set to participate in one last match on an independent card on July 31 at the Nashville Fairgrounds, ESPN reported on Monday. No details were revealed about Flair's opponent or if the match will be a singles match or a tag team.
"I'm going to walk that aisle one last time to prove once and for all that to be the Man, you've got to beat the Man," the two-time WWE Hall of Famer and 16-time world champion told ESPN.
Flair, whose birth name is Richard Fliehr, also confirmed the news of his return on Monday when he tweeted: "The Rumors Are True! I'm Going To Walk That Aisle, Style And Profile, One Last Time! July 31st! Nashville, Tennessee! Jim Crockett Promotions! I Will Prove Once Again, That To Be The Man, You've Got To Beat The Man!"
However, some social media users were not feeling positive about the news as they expressed their opinions regarding the potential outcomes of the match where the 73-year-old is expected to wrestle
"Ric Flair is returning to the ring on July 31, Summerslam weekend, as part of Starrcast V. People actively trying to block it from happening. As ridiculous & unnecessary as it looks, you can't tell ANYONE what to do with their own bodies. Let him sign the papers. It's his choice," one person said on Twitter.
"Ric Flair is going to go for the turnbuckle up and over and he's going to explode like a MK3 character," another person wrote.
"Ric Flair going to be wrestling Nick Aldis in Nashville, take one bump, and wake up in a fatal four way with Chris Benoit, Hitler, and Satan," said another person in response to the news of Flair's return. Benoit, who wrestled Flair in both WCW and WWE, died in 2007 in an incident where he killed his wife and 7-year-old son in their home before committing suicide.
Flair expressed his optimism on social media, showing that he is fearless to take on a challenge despite concerns circulating online. On Monday he posted a photo of himself training at a gym and wrote: "Age Is Just A Number! Yes, I Am 73 But Watch In 76 Days. Dare To Dream! WOOOOO!
Flair had his last match in September 2011, according to ESPN, against his frequent WCW rival Sting, a fellow WWE Hall of Famer. His last WWE match, which was billed as Flair's retirement match, was in 2008 at WrestleMania XXIV against Shawn Michaels.
Flair has had some serious health problems in recent years. In 2017, he was placed in a medically induced coma for 11 days after rupturing his intestine. He had to have emergency surgery to correct an obstructed bowel, a serious condition that led to additional complications for Flair, including kidney failure. He was on dialysis for a period of time following his surgery, and spent a month in the hospital undergoing additional treatments and rehab. He eventually recovered and has had no serious health problems since.
In August 2021, WWE announced that Flair had been released from his commitments to the company. Flair, who began wrestling in the early 1970s, said at the time that he and WWE "have a different vision" for his future.
"I am officially able to respond to all the press related to my requested release from WWE, which they have given me," he said in a statement regarding his release. "I want to make it really clear with everyone that I'm not upset with WWE at all. They solely are responsible for putting me in the position of life that I'm in right now, where I'm seen in the brightest light ever.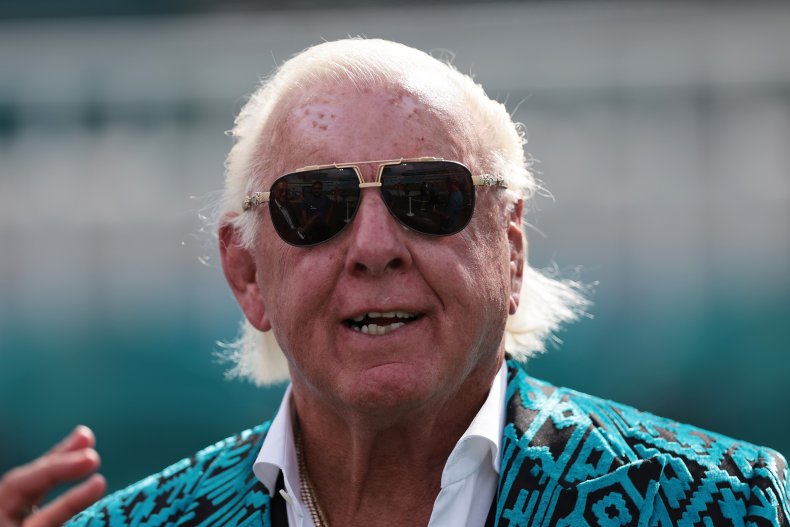 "We have a different vision for my future," Flair continued. "I wish them nothing but continued success! Thank you for everything! Nothing but respect!"
"We just didn't see eye to eye on some business opportunities that I wanted to pursue, so I asked for my release," Flair told People magazine, "There has been no animosity and everything has been on friendly terms."
Newsweek reached out to Flair's media representatives.