Early Voting won the 147th Preakness Stakes on Saturday afternoon, handing race favorite Epicenter another loss in the second leg of horse racing's Triple Crown. Epicenter has now lost the first two legs of the Triple Crown in 2022, each as the favorite and finishing second in both races. The first happened two weeks ago at the Kentucky Derby, losing down the stretch to long shot Rich Strike.
Early Voting, which had 5/1 odds to win Saturday's race, started from the fifth gate and needed a strong kick heading into the final stretch of the race to claim victory over the pack trailing him. It was only the fourth race of Early Voting's career.
Armagnac, who was the longest shot of Saturday's race, took an early lead into the first turn, leading Early Voting in that turn.
Saturday's race was run in near-record heat in Baltimore, with temperatures and the heat index hovering in the 90s prior to post time. Horses were cooled down before and after the race, but the heat didn't appear to affect any of the animals.
Early Voting, who is owned by Chad Brown, was ridden by jockey Jose Ortiz.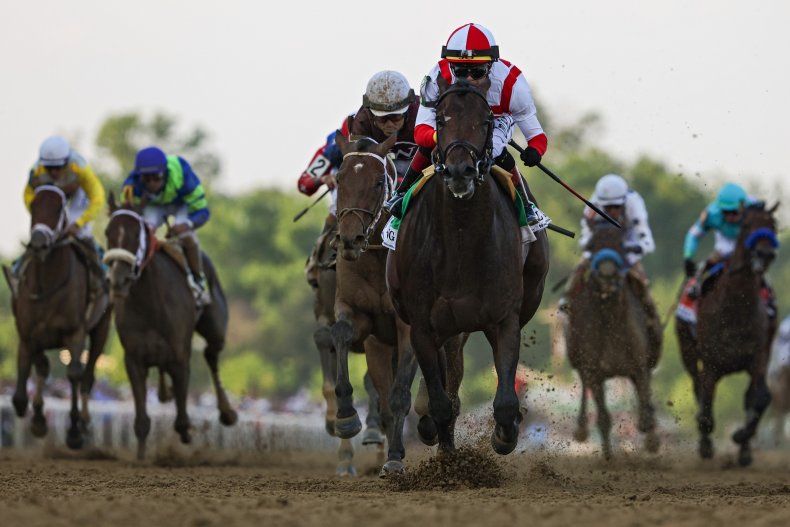 Epicenter was the favorite in both the Kentucky Derby and the Preakness, entering Saturday's race as a 7/5 favorite, which was ahead of Secret Oath (9/2). Epicenter fell behind most of the other horses on Saturday before making a run down the rail to push Early Voting. Creative Minister, who started from the second gate and had 9/1 odds, finished third. Secret Oath, the only filly in the race, finished fourth.
No horse will sweep the trifecta of the Kentucky Derby, Preakness Stakes and Belmont Stakes for yet another year. That was common knowledge before Saturday's race at Pimlico Race Course in Baltimore, Maryland.
Rich Strike entered the Kentucky Derby on May 7 as the longest shot to win that race. Rich Strike made a valiant run down the final stretch to overtake Epicenter, who was leading before Rich Strike over came 80/1 odds, and from the final gate.
Five days after the Derby, the owners of Rich Strike said their horse would not run the Preakness but instead hold off until perhaps the Belmont Stakes, which is the final leg of the Triple Crown on June 21 at Belmont Park in Elmont, New York.
The last Triple Crown winner was Justify in 2018, and the previous Crown winner was American Pharoah in 2015, which ended a 37-year drought with no horse that swept the three races (Affirmed, 1978).