Washington Commanders defensive coordinator Jack Del Rio called the January 6 riots at the Capitol a "dust-up" during a press conference on Wednesday.
The remarks by Del Rio came in response to a question about his previous tweet from Monday, when he questioned the protests and riots that were seen following George Floyd's death and how it compared to the January 6 riot at the Capitol, ahead of the upcoming January 6 Committee Hearings, where elected officials will detail a timeline of events that occurred on January 6, 2021, and hear testimony from numerous witnesses.
"Would love to understand "the whole story " about why the summer of riots, looting, burning and the destruction of personal property is never discussed but this is ???" Del Rio wrote in a tweet on Monday.
When asked about his tweet on Wednesday, Del Rio said, "I'm just expressing myself and I think we all as Americans have a right to express ourselves, especially if you're being respectful. I'm being respectful….Why are we not looking into those things? Because it's kind of hard for me to say, I can realistically look at it, I can look at images on the TV, people's livelihoods are being destroyed, businesses are being burned down, no problem. And then we have a dust-up at the Capitol, nothing burned down, and we're going to make that a major deal.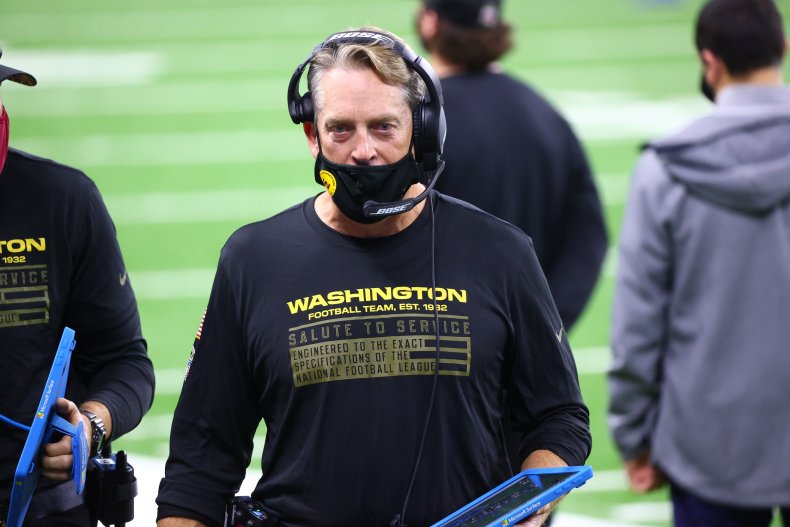 "I just think it's kind of two standards, and if we apply the same standard and we're going to be reasonable with each other, let's have a discussion….I love my guys, I respect my guys, but I also love the fact that I'm an American and that means I'm free to express myself. I'm not afraid to do that."
Despite Del Rio's remarks calling the January 6 riot a "dust-up," the U.S. Attorney's Office in Washington, D.C., recently published an update titled "17 Months Since the Jan. 6 Attack on the Capitol."
"As of April 5, 2022, the approximate losses suffered as a result of the siege at the Capitol was $2,734,783. That amount reflects, among other things, damage to the Capitol building and grounds and certain costs borne by the U.S. Capitol Police," the update said, adding that more than 800 individuals have been arrested across all 50 states for alleged involvement in the Capitol riot.
Shortly after the press conference, Del Rio issued a statement on Twitter that said, "I made comments earlier today in referencing the attack that took place on the United States Capitol on January 6, 2021. Referencing that situation as a dust-up was irresponsible and negligent and I am sorry. I stand by my comments condemning violence in communities across the country. I say that while also expressing my support as an American citizen for peaceful protest in our country. I full supported all peaceful protests in America. I love, respect, and support all my fellow coaches, players, and staff that I work with and respect their views and opinions.
According to Nicki Jhabvala of the Washington Post, Commanders head coach Ron Rivera was asked about Del Rio's previous tweets during the press conference on Wednesday and said, "I'm not going to talk about stuff that I talk with my coaches about, especially if it's stuff that's off the field."
When further asked if he thinks Del Rio's previous remarks could change views in the locker room, Rivera said, "not necessarily."
The Commanders declined to comment on the matter and directed Newsweek to Del Rio's statement.
Update 6/9/22, 9:23 a.m. ET: This article was updated with a statement from Del Rio.