Tennis players from Russia and Belarus will be barred from using their national flags in the upcoming U.S. Open tournament.
The United States Tennis Association (USTA) made the announcement on Tuesday, reiterating its opposition to "the unprovoked and unjust invasion of Ukraine by Russia." Athletes from both countries will still be allowed to participate in the tournament, set to take from August 29 through September 11 in New York City, but they will be required to do so under neutral flags.
Russian and Belarusian players were previously banned from competing in international competitions run by the International Tennis Federation.
"Alongside the other Grand Slams, the ITF, the ATP, and the WTA, the USTA, which owns and operates the U.S. Open, has previously condemned, and continues to condemn, the unprovoked and unjust invasion of Ukraine by Russia," the USTA's statement read. "The USTA, standing with these other tennis entities, supported the banning of the Russian and Belarusian Tennis Federations from the ITF, and therefore all international team competitions, and the directive for players from those countries to play under a neutral flag when competing outside of international team competitions."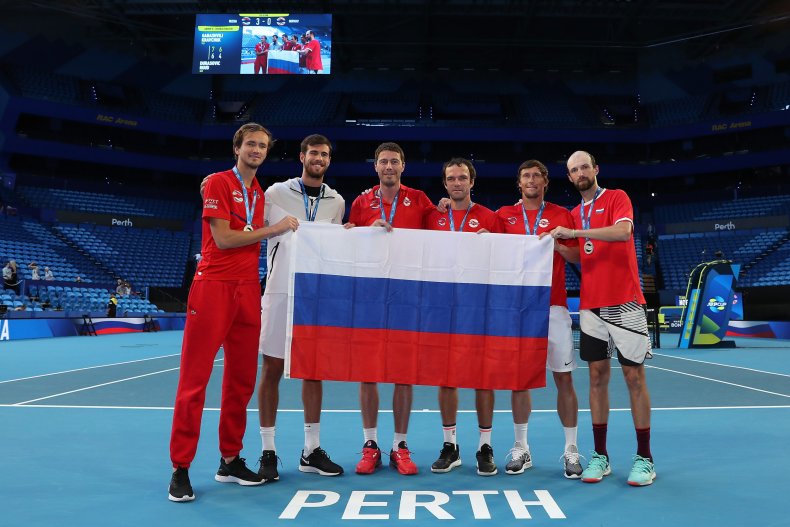 Belarus has been Russia's closest ally during the invasion of Ukraine, allowing Russian forces to operate missile launchers within its borders. Belarus shares a border with Ukraine to the north, a border that is located close to the capital city of Kyiv.
Alongside this new flag policy, the USTA announced that it would be collaborating with players "to use the U.S. Open as a platform to" promote its humanitarian initiative, "Tennis Plays for Peace." It also pledged to introduce new initiatives designed to "amplify existing Ukrainian humanitarian efforts, including committing to significant financial support." The details of efforts will be announced soon, the association said.
"Tennis has done much through Tennis Plays for Peace for humanitarian support of Ukraine," USTA Chairman of the Board and President Mike McNulty wrote in the statement. "Unfortunately, the need for help only continues to grow. The USTA will be responding very soon with a broad set of initiatives that will include significant financial assistance and other programs to further support humanitarian relief and the people of Ukraine."
Tennis Plays for Peace was launched in early March as a collaboration between several major tennis organizations: WTA, ATP, ITF, and the four Grand Slams – the Australian Open, the French Open, Wimbledon, and the U.S. Open. Each of the groups donated $100,000 to humanitarian efforts in Ukraine and pledged to use their public platforms to further support peace in the embattled nation.
Newsweek reached out to the Russian Tennis Federation for comment.