Roy Jones Jr. has revealed that he's been working behind the scenes to secure Brittney Griner's release from jail in Russia—and he said he's willing to fly to Moscow himself to escort her back to the U.S.
The American basketball player, 31, was detained by the Russian Federal Customs Service (FCS) back in February at Sheremetyevo Airport near Moscow. It was reported at the time that she was carrying cannabis oil.
With her time behind bars having already been extended, Russian authorities announced on June 14 that more time has been added to Griner's detainment, with the WNBA star's next hearing scheduled to take place on July 2.
Jones, who is a dual citizen of the U.S. and Russia, has told TMZ Sports that he's been corresponding with a friend—who he describes as "a right-hand man to the office of" Russian President Vladimir Putin—to finally get Griner back on U.S. soil.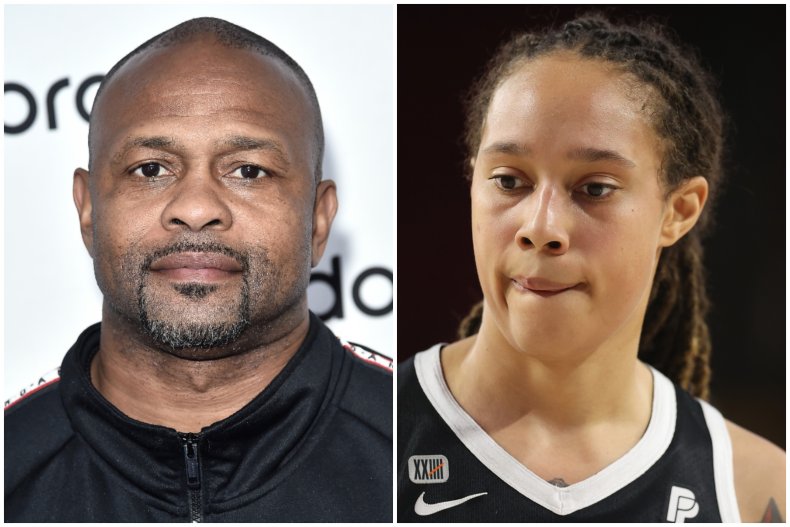 "Would I put my life on the line, take a chance to go to Russia to exchange prisoners? Yes, I would," the one-time boxing champ, 53, told the outlet. "Because if [Brittney] was my daughter, I would want somebody to do the same thing for me."
Florida-born Jones, who gained Russian citizenship in 2015, went on to explain exactly how he has been working toward Griner's release.
"I had a friend, a couple of my friends that I knew, I called and I asked him 'Is there any way we can try to facilitate?' because I don't do politics," Jones said. "I'm a sports figure and they love me as a sports figure. 'Is there any way we can use my sports influence to possibly can get anything arranged to help get Brittney home?'"
However, Jones said the route currently being offered for the sportswoman's release is a "prisoner exchange."
"My friend called and he called me back and he said, 'Yes, they said they'd be willing to do a prisoner exchange.' I said, 'Well it's probably rough because the prisoner exchange is probably a real prisoner.'"
"She's not necessarily a person that's a real prisoner," he added of Griner, "but I'm sure that maybe the U.S. will be understanding of this and get her back home because I'd be terrified if my kid was stuck in a foreign country in jail, you know?"
Addressing the identity of his friend, Jones said: "One of my guys is like—he's the right-hand man to the office of Mr. Putin, so he's high up on the political scheme. He's a reporter and he usually does most of the reporting for Mr. Putin so he can go make direct contact with whoever necessary to help me."
Pugilist Jones is one of a number of prominent American citizens who have taken up Russian citizenship over the years. Among them is action movie star Steven Seagal, former mixed martial artist Jeff Monson, and historian Suzanne Massie, who advised late President Ronald Reagan about the Soviet Union in the final years of the Cold War.
In March, Secretary of State Antony Blinken said the U.S. was working to free Americans detained in Russia, while also urging Americans in Russia to leave the country amid Putin's invasion of Ukraine.
Referring to Griner, Blinken said: "There's only so much I can say given the privacy considerations at this point.
"More generally, whenever an American is detained anywhere in the world, we of course stand ready to provide every possible assistance, and that includes in Russia."
A WNBA spokesperson previously told Newsweek that Brittney Griner has its "full support and our main priority is her swift and safe return to the United States."