LGBTQ advocates are speaking out against FINA, swimming's worldwide governing body, banning most transgender women from competing in major women's races.
The international swimming federation announced the rule on Sunday alongside plans to create an "open" category for events for transgender women who want to compete. The policy allows transgender women who transitioned before the age of 12 years old to compete in women's races.
FINA defended the decision, noting "some individuals and groups may be uncomfortable with the use of medical and scientific terminology related to sex and sex-linked traits [but] some use of sensitive terminology is needed to be precise about the sex characteristics that justify separate competition categories."
Transgender athletes competing in women's swimming races became a hotly debated topic this spring, as Lia Thomas, a University of Pennsylvania swimmer, became the first openly transgender woman to win an NCAA Division I title in any event.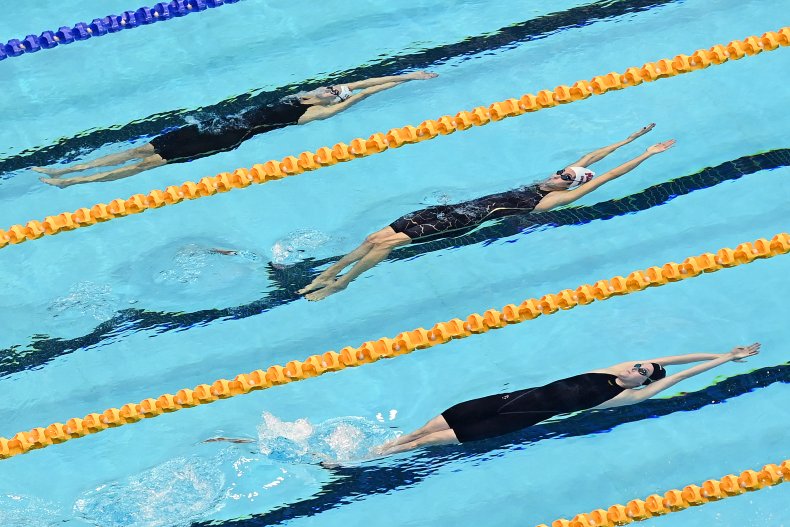 Her win sparked a high-profile debate about whether or not transgender women have an unfair advantage over cisgender women in sports, with critics saying Thomas would not have seen the same level of success while competing on the men's team even as the transgender community argues that forcing trans women to swim in men's races would be invalidating.
FINA's rule change, which went into effect on Monday, was met with mixed remarks. While some athletes, including former Olympian Caitlyn Jenner, a transgender woman herself, praised the decision, a spate of the criticism stemmed from those who believe transgender women should be allowed to compete on women's sports teams. The decision also comes as some have amped up anti-transgender rhetoric and attacks on transgender rights.
Olympian Chris Mosier, a transgender man and founder of the advocacy group Transathlete, wrote in a tweet that all women will "suffer" from the decision.
"FINA's new policy does not follow the IOC framework; not only is FINA's policy discriminatory, but it will also encourage & allow the policing of all women's bodies in swimming," he wrote. "The only way to enforce this policy will be to violate the rights & privacy of all women swimmers."
"Banning swimmers who are trans is discrimination. None of the research on this has been done on elite athletes. FINA have made this decision bc of the misogynistic hate campaign directed at Lia Thomas by the anti-trans lobby. Her career has been ruined by this decision," Jackie Turner, a transgender rights activist and campaigner for Equality Australia, tweeted.
Writer and activist Charlotte Clymer, a transgender woman, accused FINA in a tweet of bowing "to political pressure bought about by vicious anti-trans propaganda."
"No young trans woman would meet this criteria without access to proper health care, which, itself, is being banned in many places. Ludicrous," she added.
Queer Eye star Jonathan Van Ness tweeted: "Another reason why these anti trans laws that prohibit gender affirming care of minors. All these laws & rulings are seeking to disappear trans people and it won't work."
Athlete Ally, an organization that supports LGBTQ athletes, noted that FINA's decision contradicts the 2021 International Olympic Committee (IOC) guidelines.
"FINA's new eligibility criteria for transgender athletes and athletes with intersex variations is discriminatory, harmful, unscientific and not in line with the 2021 IOC principles. If we truly want to protect women's sports, we must include all women," the organization tweeted.