Every June, athletes come together to attend the NBA Draft. College basketball players, and some international players, are eligible to be chosen by a professional team who wishes that the player could make a good addition to their team. Attendees aim to dress to impress at each year's draft, and the NBA Draft 2022 did not disappoint in that department.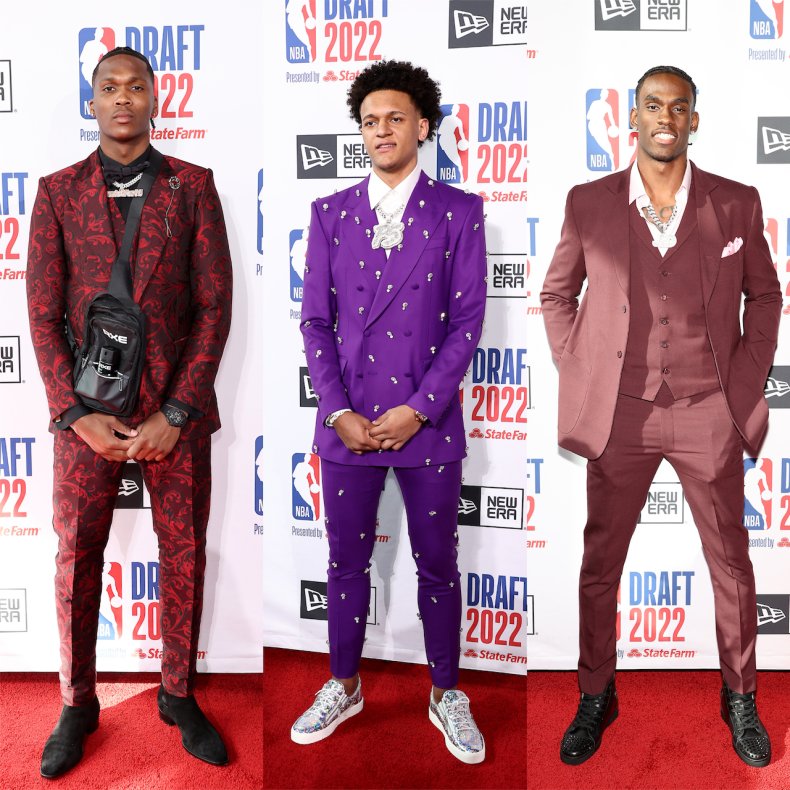 Newsweek pulled together some of the best looks of the evening.
NBA Draft 2022 Fashion Picks
Bennedict Mathurin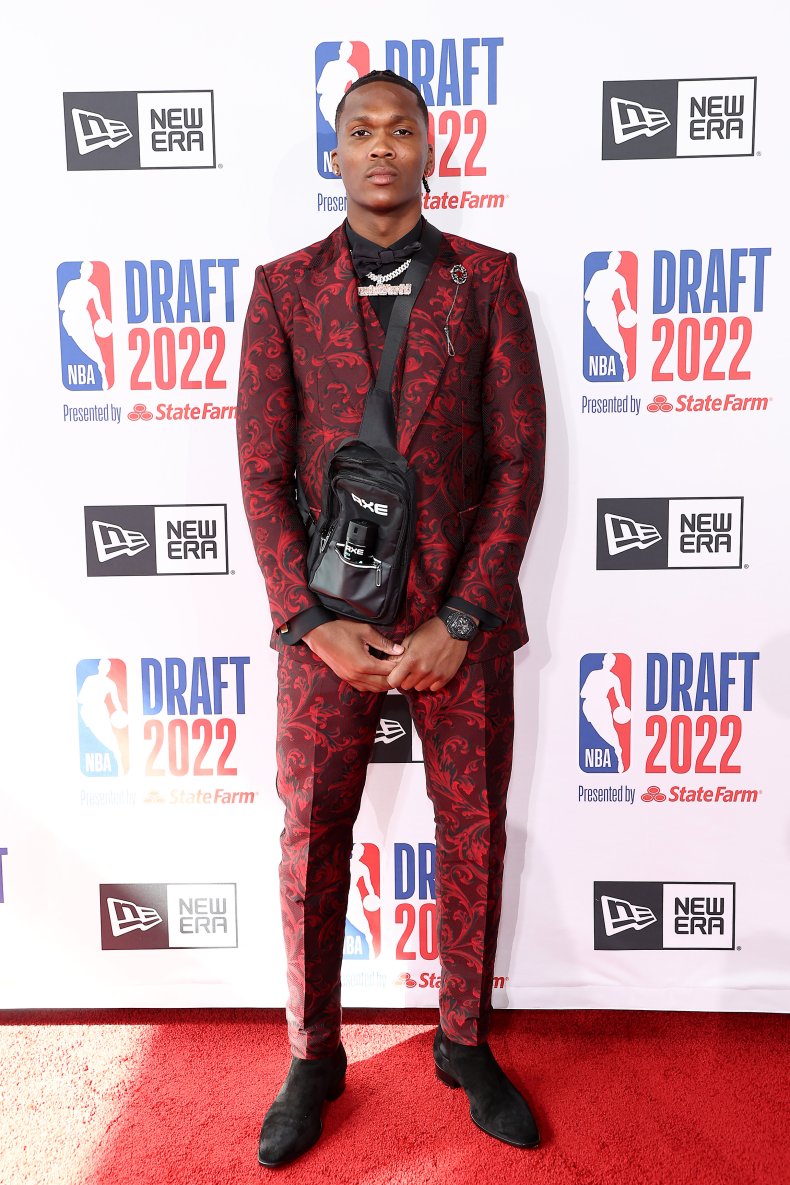 Bennedict Mathurin walked the draft's red carpet in a floral-patterned red suit with a bow tie that brought the outfit together. To match the suit, he wore a pendant with a ruby in the middle. As an accessory, he carried an AXE fanny pack with a bottle of cologne sticking out of the pocket.
Mathurin has played for the Arizona Wildcats and is originally from Montreal, Quebec.
Mathurin was chosen to play for the Indiana Pacers.
Tari Eason
Strutting on the red carpet rocking a pair of sunglasses, Tari Eason wears a button-up black shirt underneath an emerald green suit and accessories including a diamond necklace and a watch.
Eason plays for the Louisiana State University Tigers and is originally from Los Angeles, California.
Eason was chosen to play for the Houston Rockets.
Paolo Banchero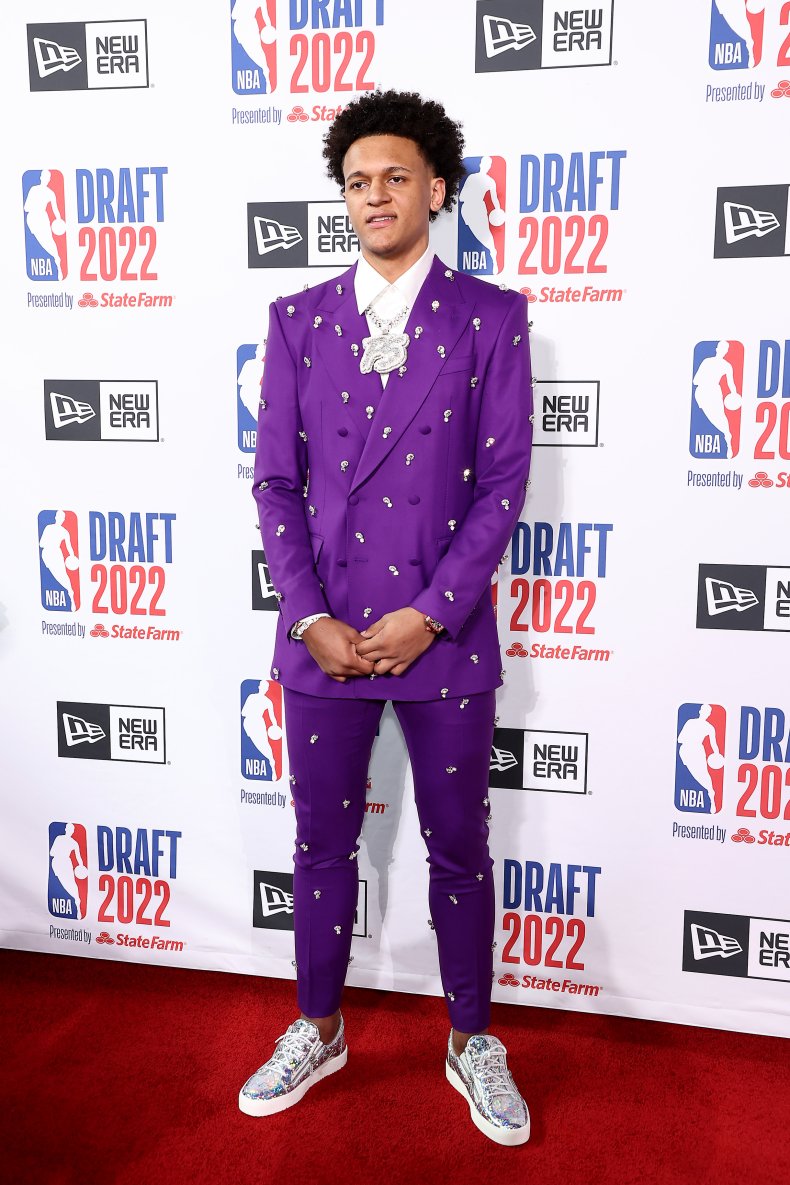 Paolo Branchero shows off his all-purple suit studded with rhinestones as well as shiny shoes and a diamond necklace to match.
"Purple was kind of my idea to do so I'm glad how it came out," he said.
Branchero plays for the Duke Blue Devils and is originally from Seattle, Washington.
Brachero was the first pick for the Orlando Magic.
Jeremy Sochan
Jeremy Sochan arrives on the red carpet wearing a lavender suit made by Indochino as well as many accessories including a pearl necklace along with a star in the middle. The outfit comes together with a black turtleneck underneath with a handkerchief in the pocket.
"I'm feeling very excited. I don't really have any words," he told NBA UK, "I mean, I'm so blessed to be here and you know whatever happens happens, and I'm just going to stay in the present."
Jeremy was born in Oklahoma but moved to England. Returning to the United States, he played for the Baylor University Bears. He was drafted by the San Antonio Spurs.
Dyson Daniels
Dyson Daniels is all smiles on the NBA Draft 2022 red carpet in a unique silver suit along with a white undershirt and a black bowtie.
Daniels is originally from Australia and plays for the NBA G League Ignite. The minor league trains potential players, coaches, officials, trainers and other staff members for the official NBA teams.
Daniels was chosen to play for the New Orleans Pelicans.
Jalen Duren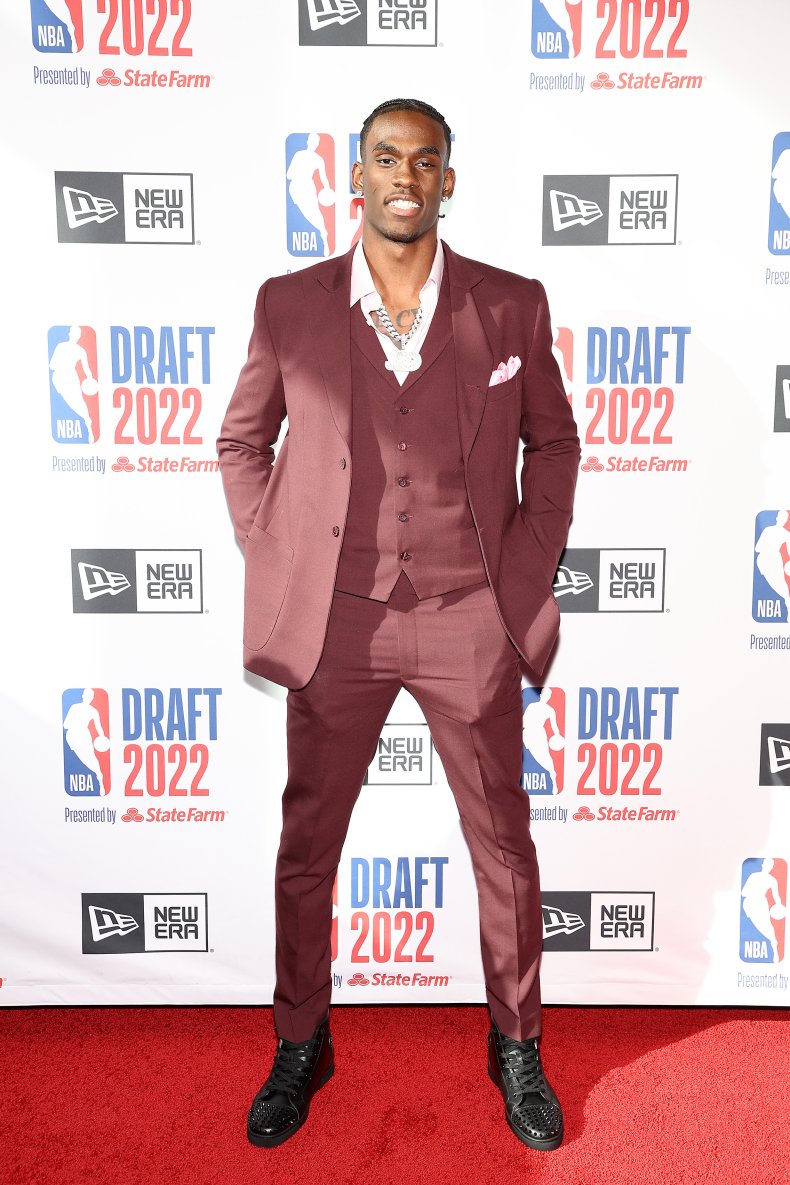 Jalen Duren rocks a burgundy-colored suit on the red carpet of the draft. A pink button-down shirt is shown loosely under his necklace as the shirt matches the handkerchief in his pocket.
Duren has played for the Memphis Tigers and was born in Sharon Hill, Pennsylvania.
Duren was drafted to play for the Charlotte Hornets.
So what happens during the NBA Draft? When it is a team's turn to choose their pick, the chosen player will go play for that team. If another team wanted that player, they can potentially trade. If a team's potential pick is chosen by another team, they go down their list and chose a player that hasn't been picked yet. Not every player in attendance at the draft will be chosen to play on an NBA team.
Update 6/23/2022, 9:56 p.m.: This article has been updated to include later draft picks.