A now-viral series of videos documented the frightening experience a group of hikers shared when they were left stranded on the Closed Canyon Trail in Big Bend Ranch State Park in Texas.
Posted by TikTok user @turtlemushrooms on July 5, the first video has since amassed three million views. You can view it here.
"PSA: flash floods are dangerous & you SHOULD NOT hike in the rain if you are unfamiliar with the area," read the caption of her video. "Don't be stupid like us."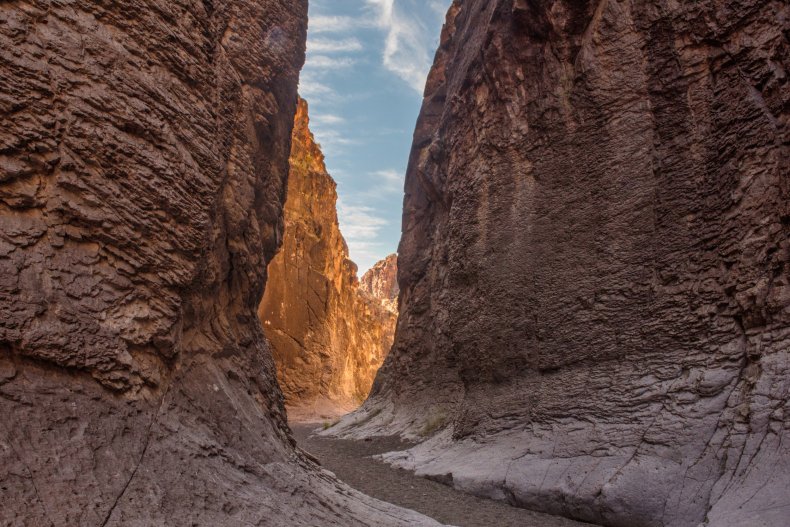 What Is a Flash Flood?
According to the National Weather Service, flash flooding is "flooding that begins within 6 hours, and often within 3 hours, of the heavy rainfall (or other cause).
"Flash Floods can be caused by a number of things but is most often due to extremely heavy rainfall from thunderstorms. Flash Floods can occur due to Dam or Levee Breaks, and/or Mudslides (Debris Flow).
"The intensity of the rainfall, the location and distribution of the rainfall, the land use and topography, vegetation types and growth/density, soil type, and soil-water content all determine just how quickly the Flash Flooding may occur, and influence where it may occur."
Are Flash Floods Common?
According to Texas Parks and Wildlife, flash floods are common in Texas.
"In hilly terrain, flash floods can strike with little or no advance warning," officials with the agency said. "Be aware of changes in the weather and seek higher ground early."
Hikers are encouraged to look out for water that rises in streams and rivers and hard rain over the course of a few hours or steady rain over the course of several days.
Additionally, those who are camping are advised to avoid setting up tents on low ground because flash floods can occur when they are sleeping.
"Water travels fast—if it's raining upstream you can be flooded even if the sky is clear overhead," the agency said.
At the start of @turtlemushrooms' video, she and her friend are seen smiling and posing in front of the camera. However, things took a turn when it began raining.
Though the group was initially in high spirits, the rain continued to pour, which quickly affected their plans.
"We've been stuck here for three hours and we can't move," @turtlemushrooms said, which she said in a follow-video was a joke.
She then showed another clip that featured rushing and roaring waters passing by before the video concluded.
TikToker Takeaways
Viewers took their thoughts about the hike to the comments section.
"This video truly escalated so fast and I was not ready even after seeing the caption lol," a TikTok user wrote.
"I grew up in Arizona and my heart immediately started pounding," another viewer commented. "Flash floods are no joke."
Many wrote that those who hike in canyons should immediately find a way out if there is a sign of rain.
"I worked at Zion for a year, [please] don't go on canyon hikes when there's even a chance of rain," one viewer wrote. "It can escalate hella quick."
Part 2
@turtlemushrooms shared a follow-up video and provided the back story of what happened during the hike. She said everyone was safe and no one was seriously injured, aside from some cuts and bruises. You can view it here.
She explained that it began raining when the group was about halfway through the trail, but they did not think anything of it.
While the group joked about the rain and getting stuck, it became a reality when they completed the hike and turned to head back to the entrance of the canyon.
They waded through puddles that were deep enough to reach their ankles, past rapids and through a small waterfall to get back to the canyon opening.
"Eventually, we get to a rapid that we cannot get past," @turtlemushrooms said. "The water's too deep, it's going too fast and it's not safe to cross it."
The group climbed onto a rock where they became nervous that they were in trouble. She noted that the final clip in her previous video did not show the worst of the flooding.
Because they were unable to get any service to call emergency services for help, the group sat for a few hours until the water subsided enough to cross.
"We ran into a few hikers who had just entered the canyon, and they helped us hike out the rest of the way," @turtlemushrooms said.
Part 3
In a third video, @turtlemushrooms said she and the rest of the group were not prepared for the hike or for a flash flood.
"Please, do not do what we have done in that video," she said. "If it starts raining, turn around. We are not experienced hikers. We acted as best as we could in the situation."
@turtlemushrooms urged other hikers to be prepared for all situations, let others know where they are and have a way to contact emergency services.
Newsweek reached out to @turtlemushrooms for further comment.
There have been other instances of hiking trips gone wrong.
A Boy Scout and his mother helped a lost couple and their injured dog that were stranded on a hiking trail in Hawaii after taking a wrong turn, while a 74-year-old hiker was rescued after she fell about 30 feet down a Colorado embankment and was left clinging to a tree.
Nearly 100 students were airlifted from a mountain trail after teachers misread advice.