The death of Oregon Ducks tight end Spencer Webb has prompted a flood of tributes to the 22-year-old.
A Sacramento Bee report claimed that a Lane County Sheriff's Office press release on its Facebook page was about Webb's death after contacting his family and high school coaches.
On Wednesday the Lane County Sheriff's Office said it was launching an investigation after they responded to a 22-year-old male who had hit his head during a cliff-diving accident just west of Triangle Lake in Lane County, less than a mile from Eugene, where the University of Oregon is located.
Lane County Sheriff Search and Rescue personnel responded to assist with bringing him back to the roadway as he was approximately 100 yards down a steep trail.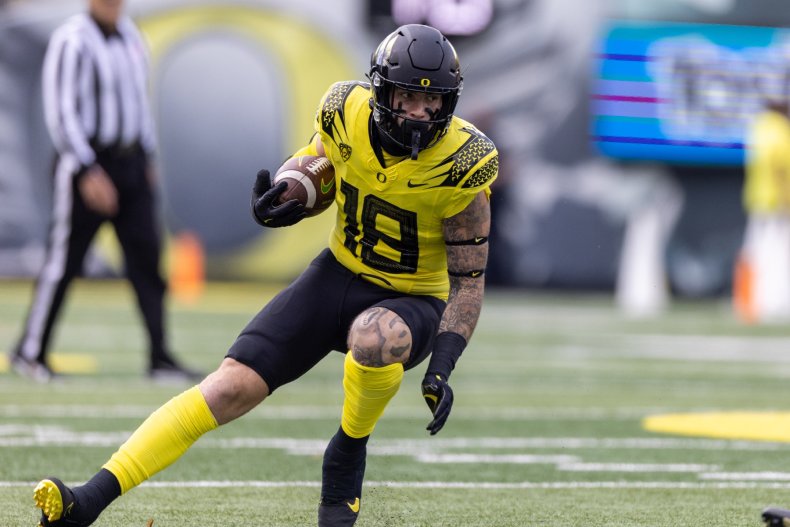 Authorities added that there is no evidence of foul play and Webb's death is being treated as accidental.
Managing Editor and sports writer for SB Nation Underdog Dynasty Cyrus Smith expressed his sorrow at hearing the news that the college football star had died.
Spencer Webb was just one of those Ducks man," he tweeted.
"When he amde a play it felt extra special. Not because of his skill but because of his spirit. Loved his spirit. Can't believe the news.
The University of Oregon football coach Dan Lanning also reflected on the death of Webb.
"So full of life in every moment of the day. Your smile and energy will be missed Spencer. I love you."
"I'm guessing Dan Lanning tweeting out a statement is as much a confirmation as any," CBS Sacramento reporter Andrew G Haubner tweeted.
"Really sad day for Duck football fans and the Sacramento community. Spencer Webb was a hero of the 916 and a genuinely fun individual to interview. He will be missed."
"Spencer Webb brought some incredible energy to game day," sports anchor Cameron Derby tweeted.
"His teammates are starting to react on social media. Athletes are so much more than that, and tonight we hurt for his family and teammates."
"So sad to hear about the death of Oregon's Spencer Webb," Sacramento Bee reporter Cameron Salerno tweeted.
"So young. He was a star at Christian Brothers High School and recently visited campus a few weeks ago.
"He cared about his roots. Thinking about his family, friends and loved ones. Life is so precious."
Terrance Leonard, a coach and friend of Webb and his family spoke to the Sacramento Bee about his death.
"It's a big loss for everybody, just truly unbelievable. Spence was like a son to me. He played with great energy. He was such a nice kid, he had a great personality."
Update, 7/14/22 3:50 a.m. EDT: This article has been updated with further details and comment.