Philadelphia Eagles wide receiver Devon Allen was disqualified for a false start in the 110-meter hurdles semi-finals at the World Athletics Championship on Sunday, sparking a massive debate.
Videos of his false start have begun to circulate on social media with many dismissing the decision and insisting he should not have been penalized.
NFL player Robert Griffin III defended the 27-year-old, who doubles up as a track and field athlete, and shared a video calling on the public to watch the replays of the start of the race again. The video has so far been viewed over 150,000 times.
"Devon Allen SHOULD NOT HAVE BEEN DISQUALIFIED," he tweeted.
He didn't jump the gun. He didn't flinch. He got punished for being TOO FAST. Watch for yourself."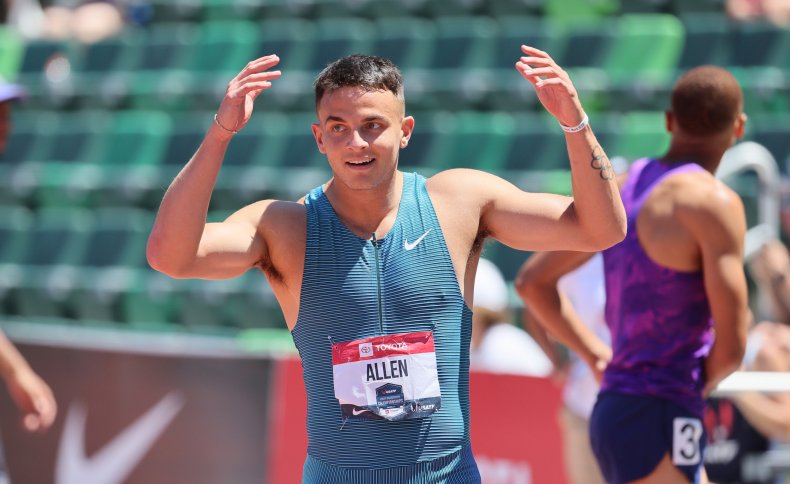 The video, which shows the athletes in slow motion at the bloc, has a commentator reflecting on the decision.
As the athletes move off, the commentator says, "there is no way your eyes are going to see a thousandth of a second difference in their reaction."
Allen's disqualification meant that he was not be able to compete in the 110-meter hurdles final, which was won by Grant Holloway of the U.S. Allen, reacted 0.001 seconds faster than the 0.1-second threshold. But that margin was enough for the computer to mark it as a false start and disqualify him.
"Really need to bite my tongue about some of the people that craft the rules and policies for track and field," NBC's Talkin' Ducks podcast host Jordan Kent tweeted in response to the decision.
"What happened to Devon Allen tonight skewers the growth of the sport and not a single right-minded person agrees this should be a rule. Just terrible."
Other angles of the start have also begun circulating on Twitter, with many arguing that they show Allen did not jump the gun.
"Watch their feet from my angle in the stands. His foot actually leaves the block after [Grant] Holloway. Some false start." Jason Polanksy captioned a video that he filmed.
In a follow-up tweet, Polanksy showed a picture of the athletes' feet in their starting blocs at the moment that they start the race.
"If the frames aren't as clear for you: here it is with Allen's toes still in the block [sic], Holloway out," he said.
"This may somehow follow some rule but it's still a disgrace."
Following his disqualification, Allen spoke to the media and gave his view on the ruling.
"It is a little frustrating, there are a lot of variables in a race. We are all getting set and moving," he said.
"To say that was a factor as well? It is hard to say as it is so absolute, which kind of sucks."
Allen was then asked whether the decision would push him away from athletics or whether he would continue.
"I'm hungry for everything that I do, my goal is to be the best hurdler ever and I still have a chance to do that.
"My goal is to play in the NFL and right now help the [Philadelphia] Eagles win a Super Bowl.
"There is not much I can do, it is just one race, which is frustrating.
"Track and Field is so difficult because you train the whole year for one competition that lasts 12-13 seconds and then that is that.
"Your identity is all based on that one competition which is frustrating but, it happens and I'll learn from it."
Newsweek has contacted World Athletics for comment.
Update 7/18/22 4.00 a.m. EDT: This article has been updated with more details and comment from Devon Allen.